CAFE LEMPICKA
retail-commercial
private commission
< 65.000€
45 sqm
valladolid, spain
2012
built
collaborators
engineering: cya proyectos & marés Ingenieros
structure: sustenta
acoustics: iberacústica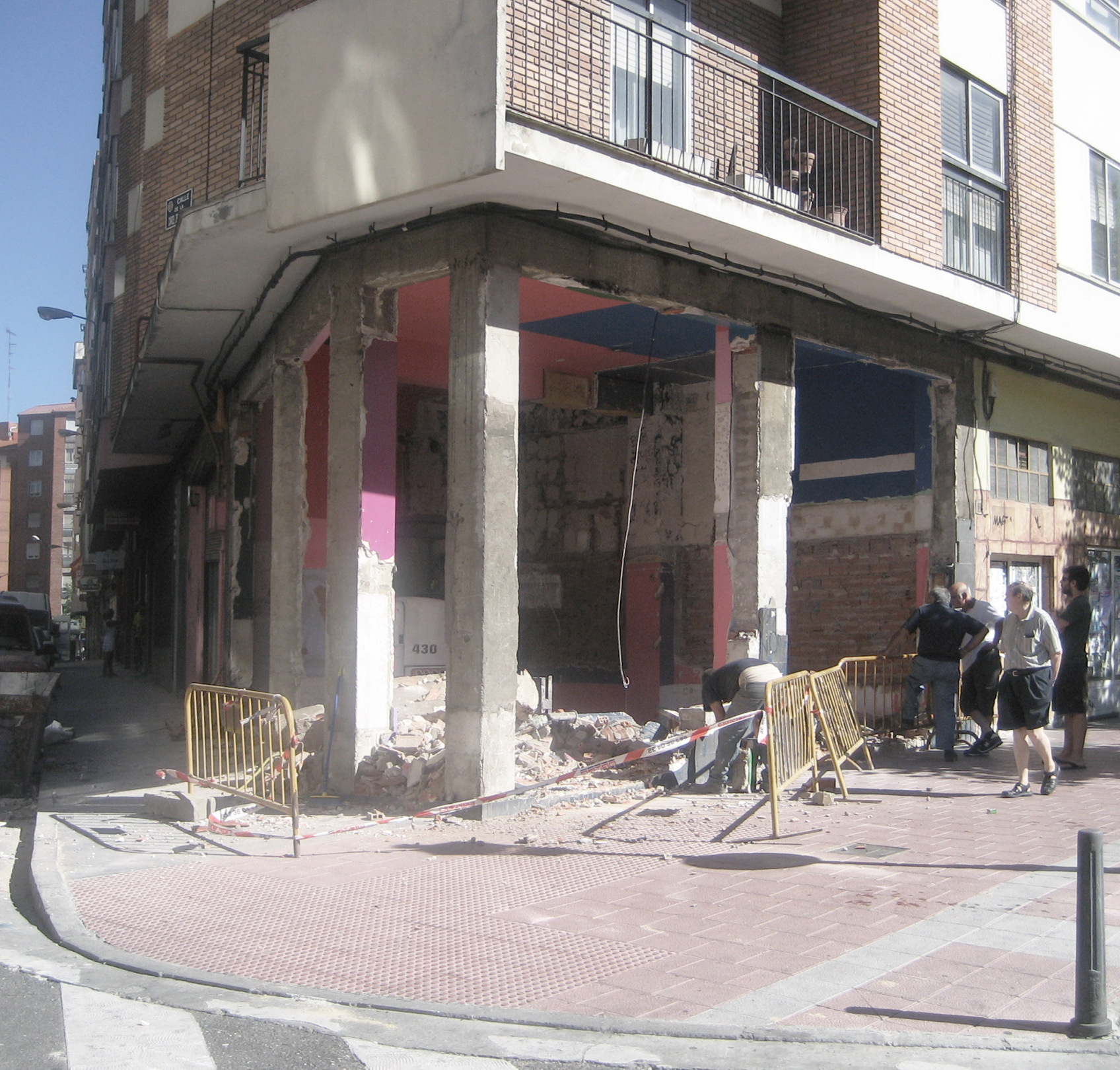 We might begin by saying that the property refuses to be an interior space. It feels more at ease being part of the street than belonging to a structural building of flats. Its corner location enhances this outward-facing longing. Thus, the design of the façade focuses on making it disappear, on dismantling it as a boundary and leaving it merely as a construction and functional necessity. Thus the façade is transformed with large glazed panels reaching the full height of the building and wrapping around from Colón Street to Cárcel Corona Street, opening the interior up to the street and making it somewhat more exterior.

The functional areas such as toilets and storage space are pushed to the back of the floor plan, freeing up space for the tables and the bar on the street side. Gradually, the toilets and the storage room found their right shape to take up the least possible surface area and free up more space for public use. Almost like boxes or furniture stacked against a wall, these rooms were fitting into each other, stacking up against each other and finding their optimal configuration.

The rest of the property was absorbed by the street. Its front façade is not the external façade, but the interior façade for the toilets and storage area. The rest is occupied only by the bar area and tables.



In relation to its specific identity as a cafe-bar, a direct reference is made to this type of use (or perhaps how we imagine it) as a place where looks are exchanged, somewhat voyeuristic. This explains the Tamara de Lempicka's painting, "The Pink Tunic", stretching over the dining area. The image is broken down into many small ceramic pieces like so many spots of colour, abstracting the original painting in an arc-shaped pattern on the slightly domed ceiling over the tables. The painting can be recognised from the outside, and as we draw closer we see more detail. But once inside, the detail is lost in a sea of colour blotches, until it is the decomposed figure itself that watches us. This voyeuristic game can only be won from a distance.

Almost unintentionally, the name of the place changed from making explicit reference to its location (District 5), to making a distant connection — but also a close bond — as Café Lempicka.


︎ back to project